Jazz in the Garden Sunday November 18th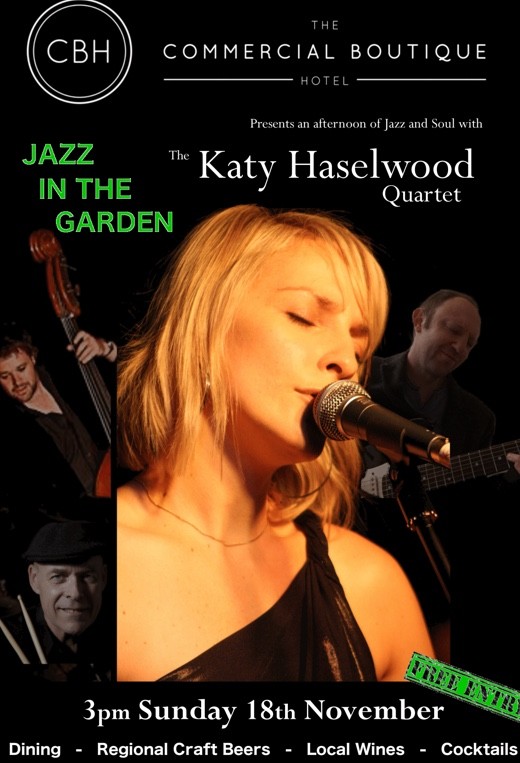 We are very excited to welcome the Katy Haselwood Quartet into The Commercial Boutique Hotel's Garden this coming November 18 th. Katy Haselwood is a well known jazz singer in the New England Highland area, entertaining audiences across the region with her sultry voice. Passionate about jazz, Katy unravels a beautiful story with each note that she sings while her stunning string quartet lulls you into each intoxicating tale.
'Jazz in the Garden' really is the perfect way to spend your Sunday afternoon and early evening. Laze the Sunday away, relaxing through the whole sunny Sunday afternoon, witnessing the breathtaking sunset over the Tenterfield hills, and then continuing into the early hours of a balmy spring evening over dinner.
Come join us in the garden from 3 pm. Bring your own picnic blanket or perch on one of the picnic benches and wine barrels dotted around the garden. We have a great selection of local granite belt wines and craft beers, both bottled and on tap for you to enjoy. We are pet friendly in the garden so all dogs on lead are welcome to join you.
If you choose to stay the weekend at The Commercial Boutique Hotel, we have an accommodation special just for the weekend of the 18 th of November. If you book Saturday and Sunday night, we'll throw in Sunday night for free! Simply book directly on our website and when you check out Monday morning we'll minus the Sunday night. Now you can really settle in and enjoy the lazy late afternoon of jazz music in the garden.
Jazz in the garden starts at 3 pm and finishes at 8pm. Get in early to grab a good spot on the grass, we'll have your glass of local wine ready for you in the wine bar. See you all there everyone!